BIOMASS & BIOENERGY will have a Special Issue for BBEST
May 9th, 2017
A special issue of Biomass & Bioenergy will publish selected papers

Do not miss this opportunity!
An agreement has been reached and papers presented at BBEST may be published in the prestigious Biomass & Bioenergy journal, by Elsevier. Dr. Helaine Carrer (ESALQ/USP, Brazil) and Dr. Solange I Mussatto (Technical Univ of Denmark, Denmark) will serve as Guest Editors for BBEST and will work with the Elsevier editorial team handling the papers of authors interested in submitting articles to the Special Issue. The rules and conditions for the publication will be detailed soon.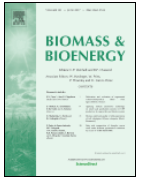 Biomass & Bioenergy is an international journal publishing original research papers and short communications, review articles and case studies on biological resources, chemical and biological processes, and biomass products for new renewable sources of energy and materials. The scope of the journal extends to the environmental, management and economic aspects of biomass and bioenergy.
For more information on Biomass & Bioenergy please visit https://www.journals.elsevier.com/biomass-and-bioenergy/
---